Low back pain (LBP) is one of the most common musculoskeletal complaints seen by GP's across the world. Some studies have suggested that 80- 85% of the population will suffer with Low Back Pain at some point in their life. For the vast majority, they will recover relatively quickly and resume their normal daily activities and routines. For an unlucky minority, Low Back Pain may become a chronic condition. Either never quite going away, or just having recurrent episodes of flares. There are many different causes of low back pain, however LBP can generally be classified into 2 broader categories: Mechanical pain and Radicular pain.
Mechanical VS Radicular Pain
Mechanical pain is the more common cause of low back pain and it is primarily caused by disorders of the joints, ligaments, bones or muscles around the spine. It is more often localized around the lower back, buttocks and upper thigh region.
Radicular pain is usually the result of spinal nerve root becoming inflamed or impinged. Usually the sufferer will complain of a sharp, electric or burning pain sensation and this pain can be accompanied by numbness or weakness of the affected area. Quite often this type of pain is only felt on one side of the body.
While anyone can develop back pain, there are certain factors that increase the risk.
Risk Factors of Low Back Pain
Age
As we age, our bone density often decreases, muscle elasticity and tone also decrease. This all increases the risk of damaging these structures. Our intervertebral discs also begin to lose fluid and flexibility which results in a reduced ability to provide cushioning for the vertebrae.
Weight Gain
Carrying extra weight puts additional stress and strain on the skeletal system. These extra stresses can lead to the development of low back pain.
Fitness
People who are more sedentary will generally have weaker back and abdominal muscles, which then may not support the spine. Your "weekend warriors" are also at a higher risk of developing back injuries. This is due to the long breaks between their exercise bouts. Being consistent at a lower level is more beneficial than doing high intensity workouts infrequently.
Job-related factors
Sitting at a desk all day, especially if you have a poor work set up or poor posture when you are sitting can lead to the development of low back pain. As can jobs that require heavy lifting. If you do not use the right techniques when lifting, pushing or pulling heavy objects, you are at higher risk of developing a back injury and low back pain.
Psychological factors and mental health
Researchers have found that chronic pain, anxiety and depression all trigger similar areas of the brain. This means that not only does back pain affect your mental health, but your mental health can also affect your back pain.
Smoking
Smoking has many negative effects on the body, including constriction of the blood vessels. This in turn affects the blood flow to the vertebrae, which results in faster degeneration of the vertebrae.
Genetics
There are certain genetic conditions, like ankylosing spondylitis, which affects the spine, often resulting in chronic low back pain.
So, what can we do?
Although there are certain risk factors we have no control over, like aging and genetics, we can make lifestyle modifications working towards a healthy lifestyle.
Try to maintain a healthy BMI, as this will reduce the pressure on the spinal structures
Ensure your desk is ergonomically set up to promote good posture.
If your job entails lifting or moving heavy object, ensure you use the correct techniques where you engage your legs to take the brunt of the weight.
If you are a smoker, consider quitting.
Most importantly, get into a good fitness routine that includes cardiovascular work, to help you maintain a healthy BMI, as well as adding strength and flexibility exercises to your weekly routine. Good flexibility is important to ensure one can work through their full range of motion as well as enabling good posture. Core strength is important so that the muscles can then support the spine and surrounding structures to maintain that good posture and cope with additional ADL requirements.
To get you started we have included a few of our favorite stretches and basic toning exercises.
Stretches & Basic Toning Exercises
Hamstrings
Lying on your back with your legs straight out, pull the one leg up towards you, keeping both legs as straight as possible. Hold for 30 seconds then repeat on the other side.
Glutes
Lying on your back with your legs bent, place the right ankle on the left knee and left your left leg up towards you. Hold for 30 seconds then repeat on the other side.
Lateral structures
Lying flat on your back with your right leg straight and the left one bent. Now pull the left leg across your body trying to get the left knee to the ground whilst keeping the left shoulder flat on the ground. Hold for 30 seconds then repeat on the other side.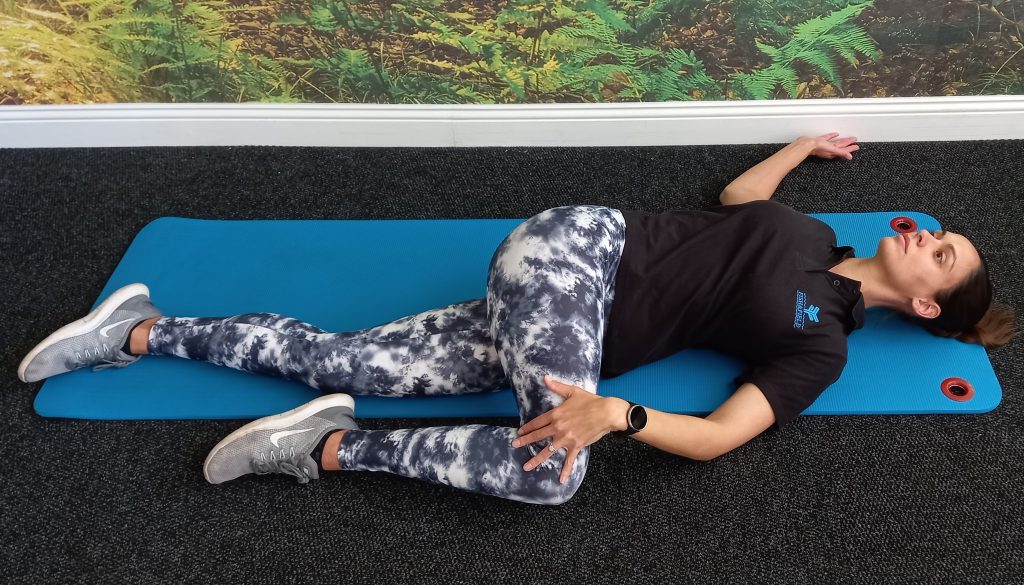 Bridging
Lying on your back with both legs bent. Slowly roll your spine off the floor till you form a straight line from your shoulders to the knees. Hold for 10seconds, then roll back down. Aim for 10 reps.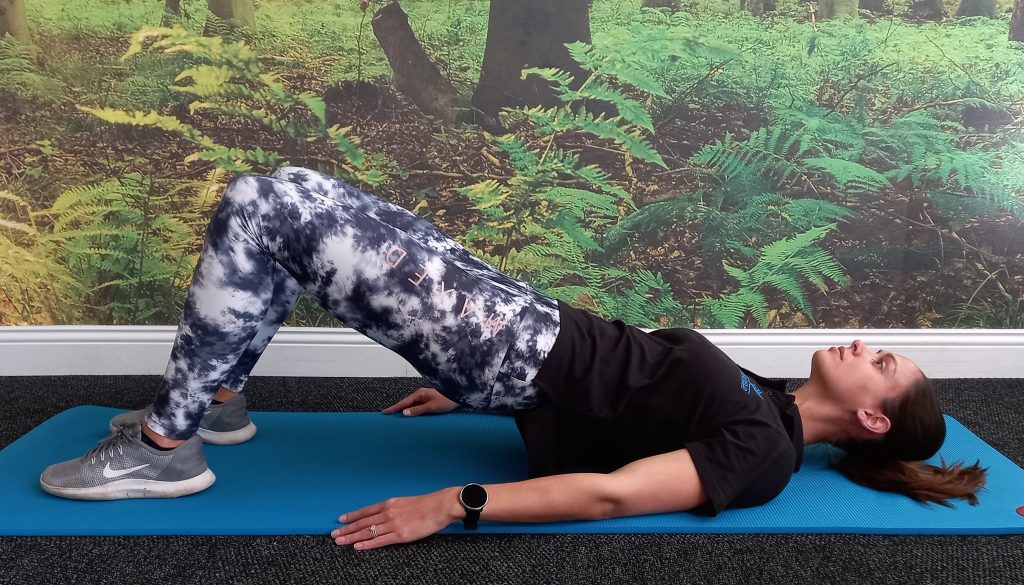 Dead Bugs
Lying on your back with your legs bent to 90 degrees and your feet up in the air. Whilst maintain a neutral spine, slowly lower one leg down to the floor and back to the starting position, then do the other leg. Aim for 10 on each leg.

Hip Flexors
Kneeling on the floor, place your right leg up at 90degrees in front of you. Now lean into the right leg so that you can feel the stretch in the left hip flexor and quad. Hold for 30 seconds, then repeat on the other side.
4pt Supermans
Kneel on the ground on all fours. Activate your core, then extend your right arm out in front of you, at the same time extend your left leg out behind you. Hold this position for 10seconds, then repeat on the other side. Do 5 reps on each side.

When it comes to starting an exercise program, there is no "one size fits all". If you are suffering with back pain and uncertain about what you should and shouldn't be doing, consult with a Biokineticist to give you a tailored program focusing on your needs and designed for your specific condition.
References
Approach to lower back pain F Moosajee, MB ChB, FCP (SA); A A Kalla, MB ChB, FCP (SA), MD Division of Rheumatology, Department of Medicine, Faculty of Health Sciences, University of Cape Town and Groote Schuur Hospital, Cape Town, South Africa
The high costs of lower back pain – Medical Brief
Missed Work Because Of Back Pain (brooklynpaindoc.com)
Low Back Pain Fact Sheet | National Institute of Neurological Disorders and Stroke (nih.gov)
The psychology of low back pain – Harvard Health
How Your Back Pain is Affected by Your Mental Health – Spine Institute Northwest
How Smoking Increases Spinal Pain (verywellhealth.com)
Why a Strong Core Can Help Reduce Low Back Pain – Health Essentials from Cleveland Clinic