Did you know? The 1st of October is annually celebrated as International Day of Older Persons! It is estimated that by 2050 over 20% of the world population will be in the over 60 age group. It is important to remain as healthy and able as possible to make these golden years really shine. With this in mind, we asked Pierre Oosthuizen, our resident podiatrist at off Nicol, to share some tips on foot health.
Help your feet feel 50 when they're 60!
Guest Post by Pierre Oosthuizen
Feet change as we get older. Your skin and nails change, cartilage in the joints may be worn away, the fatty pads in the foot soles are probably thinner and old injuries from your youth could take its toll as does chronic disorders such as diabetes.
Slippers & Slip-Ons
Let us start with slippers and slip on or push in shoes. While these are wonderfully comfortable, slippers and push in shoes are unsupportive, few have any attachment to the feet, have no laces or other straps, and the heel counter are trodden on or worn out. These are factors that might lead to falls and injury. If you are diabetic, sharp objects might pierce through the sole and lead to chronic sores.
Velcro Shoes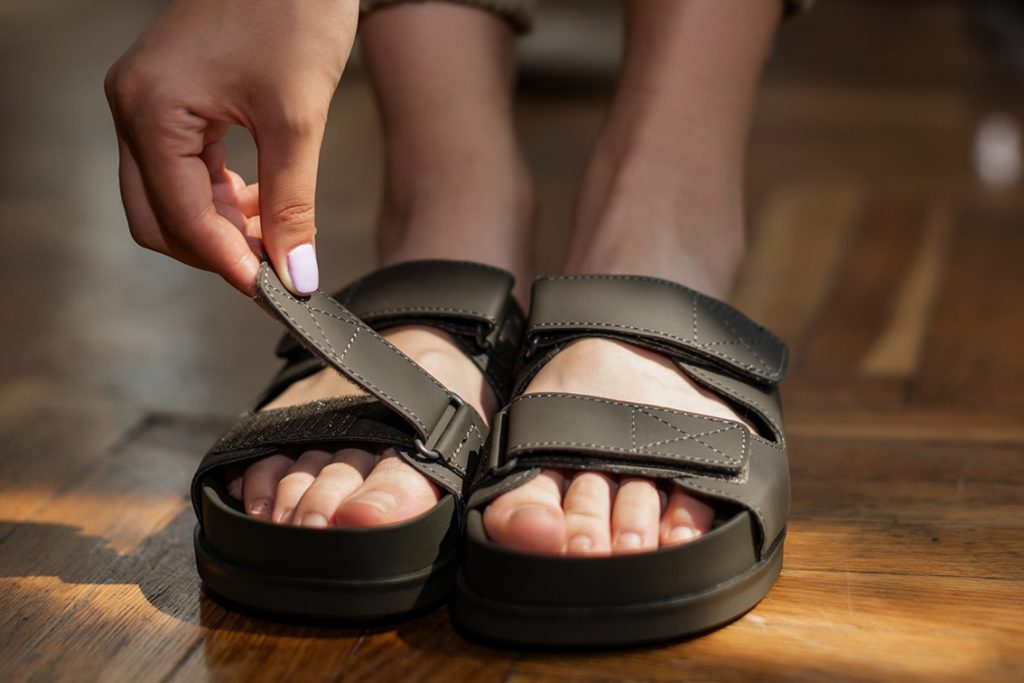 You might find it difficult to tie shoelaces, due to arthritic fingers, loss of sensation in your hands, a sore shoulder, back or knee (or general stiffness). Have you considered using shoes that have Velcro strips instead of laces or buckles? They are easier to fasten.
Heeled Shoes
While you wore heels in days gone by, it is normal to find it difficult to balance while wearing high-heeled shoes now. It is wise to wear shoes that have a lower heel height of 3,5 cm with a wider heel base. In fact, it is often recommended even to younger women – because of the associated risk of getting an injury and the abnormal pressure it imposes on the foot and toes. It may cause or aggravate corns and calluses.
A higher heel height is recommended in case of severe calve stiffness. Do not force yourself to wear flat shoes if your calves become sore.
Get comfortable
Flexible shoe soles assist the normal movement of the feet during walking. Buy shoes with a broader toe area for toe deformities and remember to wear socks to protect the thin skin (past age of 50) and absorb sweat. These factors relief pressure on corns, calluses, and sore joints.
If you cannot find any nice shoes, go for the hip fit look and wear trainers ("tekkies")! Trainers come in all shades of colour, have soft spongy inner and outer soles, soft uppers and enough space – if you choose them well. When you try on the pair of shoes, be sure to wear socks. And make sure your toes do not touch the uppers of the trainers. To be sure that it has enough space.
Remember – the most expensive shoes are not necessarily the best shoes. The best shoes are the pair that has the best fit for your feet.
Pierre Oosthuizen
Resident Podiatrist at Off Nicol Health & Wellness
Pierre Oosthuizen completed his degree in Podiatric Medicine at the University of Johannesburg. He enrolled for short course in active isolated stretching and is currently enrolled for a course in coaching long distance running at SSISA. Oosthuizen consults patients at Off Nicol Health and Rehab and manufactures orthoses at a solar powered orthotic laboratory. Biomechanics is his greatest passion and enjoys treating knee, ankle and foot injuries in active patients. He is registered with the HPCSA.
WEBSITE